VH-ARW de Havilland D.H.82A Tiger Moth (c/n DHA91)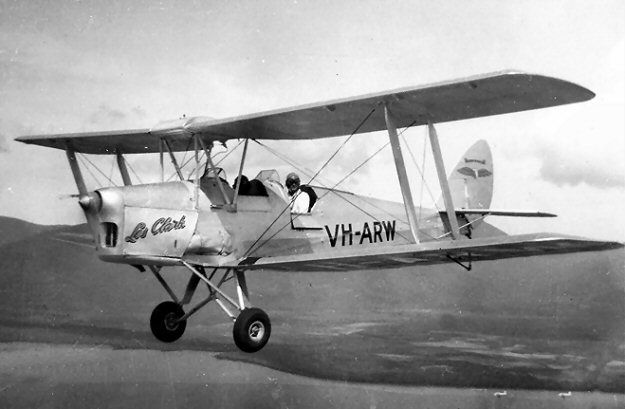 Above is a lovely shot from the John Hopton collection of -ARW over Cairns, circa 1952, whilst
owned by the North Queensland Aero Club. The name Les Clark is painted on the nose cow-
lings, in recognition of the popular supervisor of the Cairns ambulance service. The interesting
photograph by below by Jim Sawdy (via the Roger McDonald collection) is of the same era and
shows the Tiger at Cairns with, in the background, TAA's daily Lockheed Lodestar (VH-TAY
or TAZ) service arriving from Townsville via stops at Ingham or Innisfail. In those days Cairns
was just a small port town, yet to become the booming tropical holiday destination it is today, and
did not warrant a DC-3 from the south. This Tiger Moth was purchased ex RAAF A17-94 in
May 1946 by Cape York Aero Club, which was established at Cairns by prewar North Queens-
land Airlines pioneer Tommy MacDonald. Unfortunately his aero club lasted less than a year,
and VH-ARW was among its aircraft acquired by a newly formed North Queensland Aero Club
which is still operating from Cairns Airport. VH-ARW crashed at Cairns on 26 October 1957
during a training exercise. The stored wreck was later acquired by Trevor deVere who sold it on
as a restorastion project from whence it eventually emerged as VH-UVB.