VH-ARB(1) Douglas DC-2-242 (c/n 2076)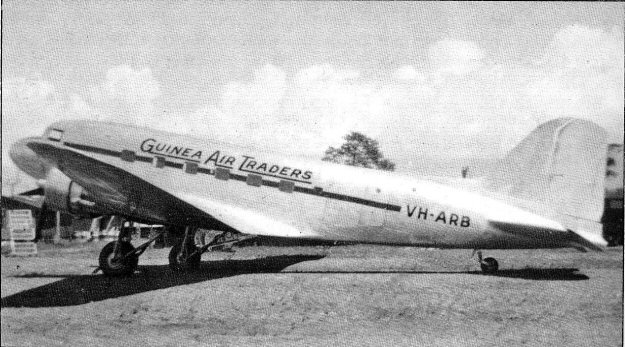 Sometimes dubbed the DC-2 1/2, some 35 examples of the Douglas C-39 were built in 1939.
The aircraft was a composite of DC-2 and DC-3 and military specific parts and assemblies.
It used a basic DC-2 forward and center fuselage section mated to a DC-3 style aft fuselage
and tail. The wing consisted of a DC-3 center section and DC-2 outboard wings. c/n 2076
was the former 38-519 and served in Australia during WW II with the 5th Air Force. It was
civilianized in 1946 for Australian National Airways as VH-ARB, having operated in the latter
stages of the war for that company on military contracts using the call sign 'VH-CCG'. . In
1948 ANA sold it off and for a short while it was owned by the Missionary Aviation Fellow-
ship at Port Moresby. Guinea Air Traders acquired it at the end of 1948. The above iamge
is from Jim Sinclair's book 'Balus The Aeroplane in Papua New Guinea', while the photo below,
by Richard Leahy (via Geoff Goodall) shows the stripped hulk of -ARB as the old Lae town
airfield in the 1950s. It was later completely broken up.