VH-AQU de Havilland D.H.84 Dragon (c/n 2048)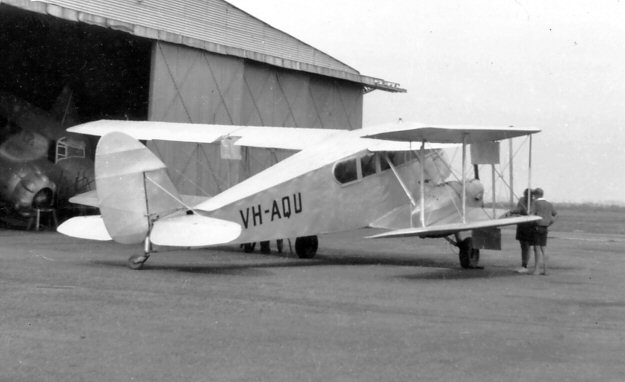 One tends to forget that the Dragon was designed to have folding wings. Here, VH-AQU has
the starboard wing folded. It was probably being brought out of the hangar and readied for flight.
The idea being, of course, to reduce hangar space. About the only aircraft designed this way today
are shipboard fighters. The venue or time of this photograph is not known, but it was probably
Bankstown. Also unknown is why the Anson in the hangar is up on its nose! In the 1960s it was
owned by Sid Marshall and below is a shot of it in

Marshall Airways - Charter Service

livery.
taken by John Hopton at Bankstown in October 1963 (via Geoff Goodall). Picture # 3 is a color
shot of the Dragon by Greg Banfield in December 1965 with the inimitable Sid at the controls.
Aviation enthusiast Robert St. John of Adelaide then acquired the -AQU from the estate of the
then late Sid Marshall and shot # 4 taken by Nigel Daw (again via Geoff Goodall) shows it at
Broken Hill, NSW in March 1980 while in the image at the foot of the page (# 4, Nigel again)
we see it at Mt. Gambier, SA in a Coca-Cola advertising paint job. (Sadly, Rob St. John passed
away in December 2008). VH-AQU was later purchased by the original manufacturer, now
named Hawker de Havilland, re-registered VH-DHX and returned to the place of its birth at
Bankstown in 1986. It was acquired in the new millennium by the Norman Aeroplane Trust
(Torquil Norman) at Chibolton in the U.K .in whose care it is still airworthy. It is currently
registered G-ECAN. There are many lovely shots of it as it now appears in full Railway Air
Services livery on the Internet. Merely Google "G-ECAN Dragon".