VH-AQO de Havilland D.H.104 Dove 1 (c/n 04002)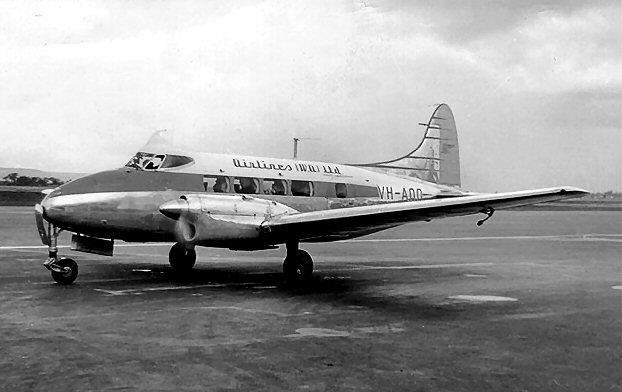 As its c/n suggests, this was the second Dove built, and the first to enter airline service (anywhere
in the world). Airlines (W.A.) Ltd ordered six of them new in 1946. Original photographs of
Airlines (WA) Ltd aircraft are, for some reason, quite rare. I am indebted to Geoff Goodall for
the above image of VH-AQO in 1949 livery. The lower shot was also taken in the 1940s, although
the airline name only appears on the fin and rudder. This actually might have been earlier than
the shot above. Chronology, anyone? VH-AQO came to grief in a crash at Kurrawang, W.A.
in October of 1951 and the photograph of its remains on the bottom of this page is also courtesy
of the Geoff Goodall collection.