VH-AQJ de Havilland D.H.82A Tiger Moth (c/n DHA23/T262)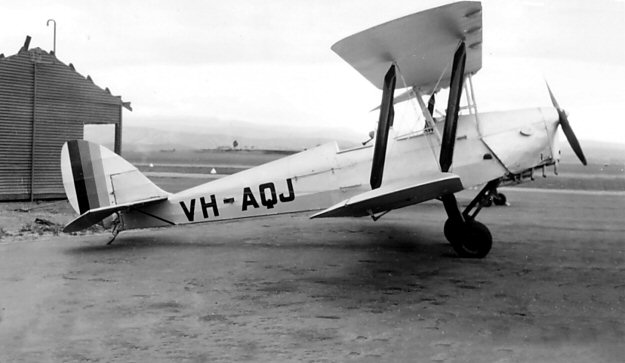 Almost indistinguishable from its Tasmanian Aero Club stable mate VH-AQI, this aircraft was
built slightly earlier than the previous one (in 1940, vs 1941 for -AQI). It is seen above at
Launceston Airport in 1952. just after I had taken it 'for a spin'. Imagine my surprise, therefore,
on a hot day in January 1958 when I was "trolling" for photos at Moorabbin when I came across
my old friend from those Tassie Aero Club days masquerading as a crop duster! (Photo # 2 below).
In the mid-1950s many ex aero club Tigers were purchased by the aerial agriculture industry and
converted into single-seat dusters. A decade later DCA decided to ground all D.H.82As from agri-
cultural work by 31 December 1965 due to the high accident rate and serious injuries to the pilots
in comparison to more modern aircraft types. A 3-year fleet reduction plan was implemented which
required each company to reduce a third of its DH.82s each year. In many cases this was achieved
by cross-leasing. Shot # 3, taken by Bob Neate at Bathurst, NSW in September 1963, shows -AQJ
which was registered to Air Mist Pty Ltd of Parafield with its Air Mist titles removed and those of
another company on the fuselage. The fourth shot of this much photographed Tiger by Geoff Goodall
illustrates it whilst the aircraft was still deployed at Parafield, S.A. in 1962. VH-AQJ was formerly
with the RAAF as A17-26. It later was retired at Parafield in October 1965 and abandoned and
dismantled in a truck compound. Most of the airframe was collected and restored by Lew Wade
at Moorabbin in 1973 using parts of VH-SSG and VH-BEU. Photo No. 5 below, by David Tanner
shows it following Lew's rebuild. It was destroyed in a fatal crash near Sale, Vic on 29 December
1979. A "new" -AQJ appeared on the register in October 1984, an early example of Ray Windred's
remarkable Tiger Moth factory at Luskintyre NSW. Ray had also acquired some parts of -AQJ
salvaged from Parafield in the 1960s, and used these as identity for his new ground-up rebuild which
was painted with the original -AQJ's RAAF serial A17-26. Barry Maclean took the photo of it at
the bottom of the page (# 6) at Richmond in 1991 when it was displaying the rather odd combination
of its RAAF serial number on the rudder and the somewhat crude rego on the fuselage For complete-
ness sake I will leave this hybrid machine as part of this original VH-AQJ entry.


2.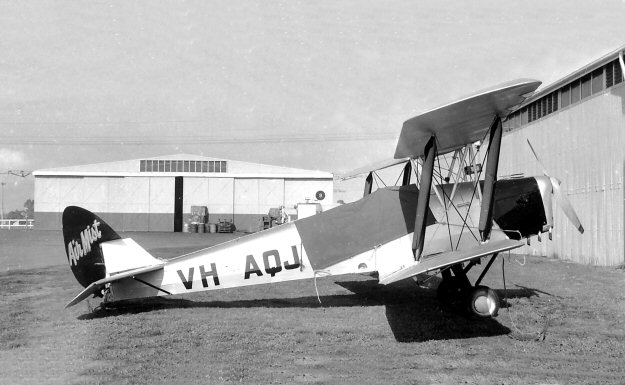 3.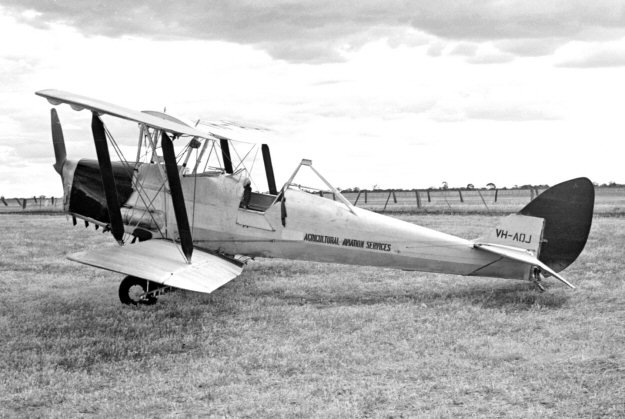 4

.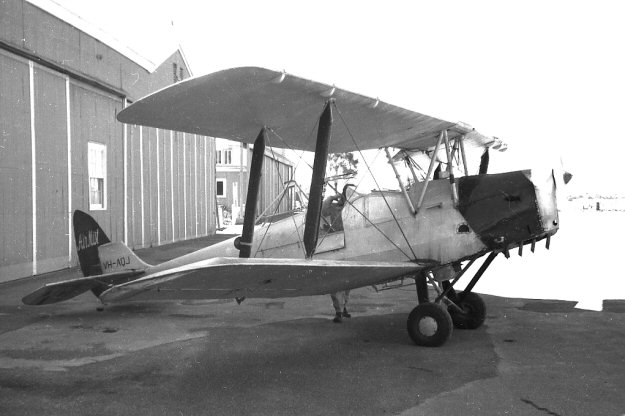 5.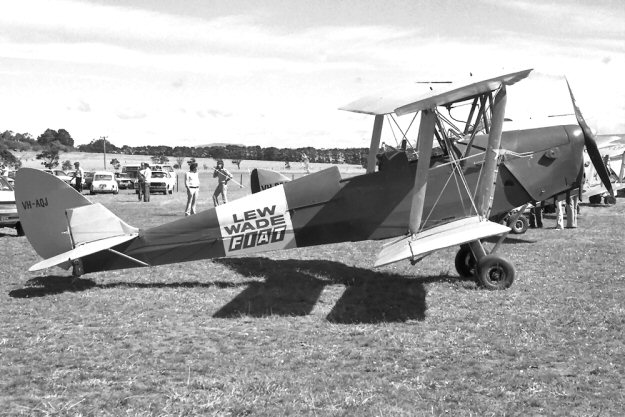 6.