VH-AQA (3) DHC-2 Beaver (c/n 1467)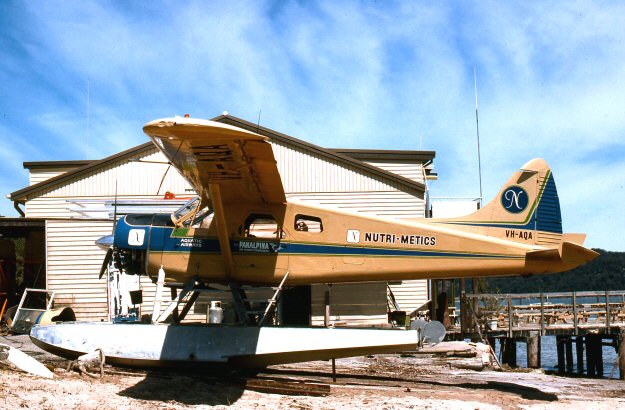 This Beaver is outside the data range of this website, but I'll add it nonetheless merely to complete
the historical sequences of the VH-AQA rego. The aircraft was originally built for the Ghana Air
Force and flew with that arm in 1961 as G-207. It wound up in Malaysia as 9M-AXE before
being imported into Australia in 1974 as VH-IML. Following a period of inactivity in the early
1980s it was registered to Aquatic Airways of Palm Beach, NSW in 1983 as VH-AQA. Greg
Banfield's shot above shows it whilst with Aquatic, and sporting advertising for Nutri-Metics (a
sort of antipodean Mary Kay-like home based nutrient business). In 1993 -AQA went to Sydney
Harbour Seaplanes and is still registered to them, albeit being currently (2008) under a rebuild.