VH-APM de Havilland D.H.82A Tiger Moth (c/n 82566)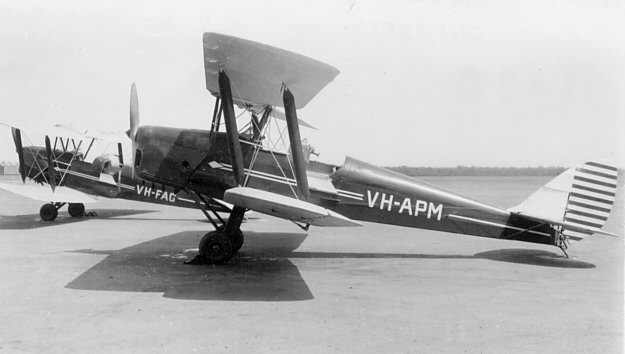 Two Tigers of the Illawarra Flying Club at Bankstown in 1954. VH-APM was a UK-built,
Australian-assembled machine which served in the RAAF as A17-12. It was civilianized in
1946, had a couple of earlier mishaps, and was permanently put out of commission in a prang at
Foster in Victoria in 1959 whilst working as a crop duster. (Seen below at Moorabbin some
years later, looking decidedly bedraggled). VH-FAG on the otherhand is still flying today.
What is even more surprising is that it is still registered VH-FAG given (i) Australia's propensity
for re-registering an aircraft every time the ownership changes and (ii) the rather un-pc connotation
that this rego has today (it certainly didn't when I took this photgograph fifty years ago!).
At the foot of the page is a photo from the Bruce Robinson collection showing his uncle,
F/O C.J. Robinson (an RAAF instructor) and Air Cadet C.W. Perese preparing for a flight
in A17-12 in October 1940. Looks like they were having as much trouble getting their
harnesses tight as I used to! My goodness, those harness straps were tight!