VH-APG Short S25 Sandringham 7 (c/n SH.57C)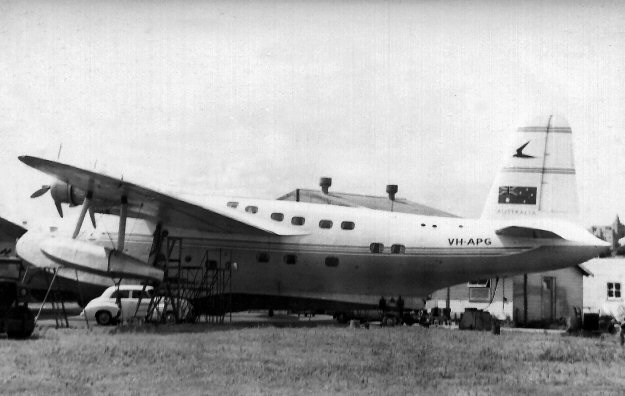 This is a terrible shot taken at Rose Bay Flying Boat Base, Sydney with a borrowed camera in 1955.
(For some reason I did not have my 616 camera with me that day). However, on the basis of 'better
than nothing', here it is. Venue was Rose Bay, circa 1955. This aircraft was owned by Capt. (later
Sir Gordon) P.G. Taylor. It was built as a Short Sunderland III (JM619) for Coastal Command
and converted to a 30-seat flying boat for use by BOAC on their South African services (from
Poole to Johannesburg). VH-APG was the former G-AKCO. It was sold in French Oceana
in 1958, becoming F-OBIP. It has now been beautifully restored and now resides at the Musee
de l'Air at Le Bourget Airport in Paris. Nigel Daw took a shot of it (below) thirty tears ago just
after it emerged from its rebuild.