VH-ANZ Douglas DC-3CG202A 'Largana' (c/n 9559)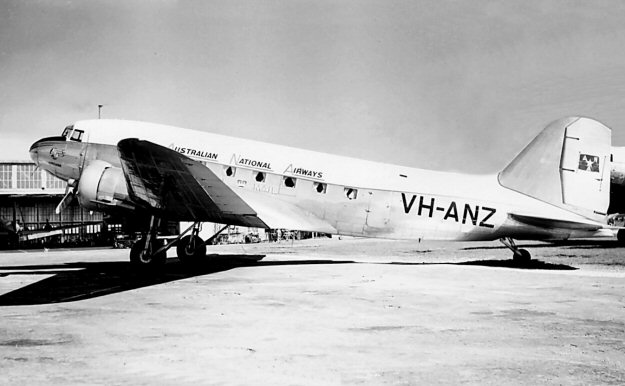 VH-ANZ was a C-47A-30-DL USAAF serial number 42-23697 . If flew with the RAAF
with the call sign VHCFF and on courier runs with ANA as VH-CFF. After service with
ANA, Ansett-ANA and its subsidiaries Airlines of South Australia, Airlines of NSW
and MacRobertson Miller Airlines its history becomes very clouded. That it was sold in
Cambodia is generally accepted, but what it became, and the dates that happened, are the
subject to controversy.
One source alleges it was registered XU-GAJ in 1972 and destroyed in a sabotage action at
Phnom Penh in July of 1975.
Another report suggests it became XU-IAL and was destroyed by similar terrorist acitivty in
1973.
Yet another anecdote professes that it became XW-TFL, owned by Air Union, and crashed at
Suay Rieng on 20 April 1974.
Any other offers?
Seen below is a nice shot of it in Ansett-ANA livery taken by Bob Neate at Essendon in January
1964.
Underneath this is a photo of - ANZ at Perth in March 1970, a few days after its delivery flight
from Ansett-ANA storage at Essendon, and already repainted with MMA titling. It retained
its passenger interior and was put into service on the Perth to Kalgoorlie and Perth-Geraldton-
Carnarvon services because passenger loads had dropped and the DC-3 allowed Fokker F-27s
to be diverted to the more lucrative runs to the Pilbara iron ore mining areas.
Finally, at the foot of the page is a Merv Prime image of -ANZ at Perth on 2nd January 1971.
when sold to Australian Aircraft Sales of Sydney, prior to departing for Essendon and then on
to Cambodia.