VH-ANV Douglas DC-3CG202A 'Louana' (c/n 10082)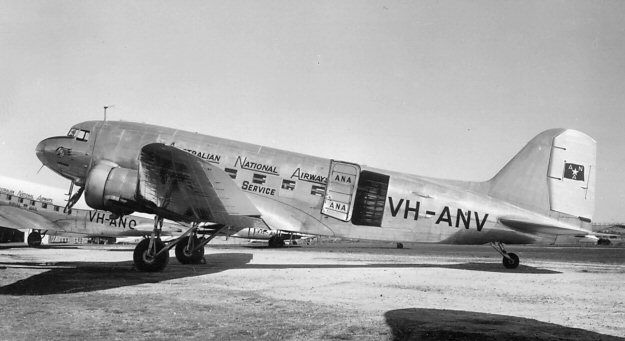 Sister aircraft to VH-ANT. It was built as a C-47A-50-DL with USAAF serial number
42-24220. Its RAAF call sign was VHCCD. It was procured from war surplus by ANA
in 1946. However, unlike VH-ANU this aircraft began its career with ANA as a passenger
liner, (as the shot below, taken much earlier, illustrates) but was relegated to freight duties in
1953. It passed to the Ansett-ANA fleet in 1957 when A.T.I. (Ansett Transport Industries)
took over ANA. The shot below, by Peter Gates, shows it in this livery. Like VH-ANT it
was sold in Cambodia in 1968 becoming XU-EAH. It was scrapped in 1975 at Phnom Penh.