VH-ANT Douglas DC-3CG202A 'Wandana' (c/n 10078)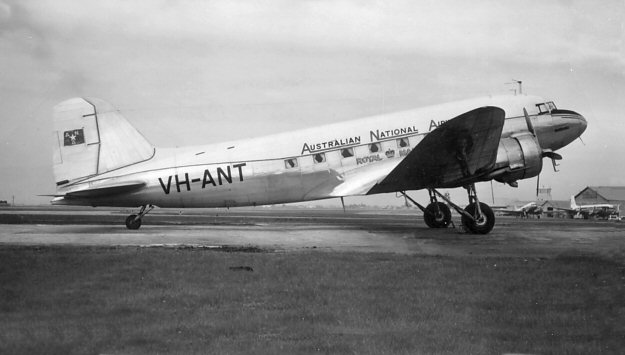 This aircraft was built as a C-47A-50-DL with USAAF serial number 42-24216. It
was procured from war surplus by ANA in 1946. It passed to the Ansett-ANA con-
cern in 1957 and in 1958 was converted to a freighter. My photo above was taken at
Essendon in 1955. The photo below, from the Civil Aviation Historical Society archives,
via Phil Vabre, shows it in original all metal finish before the white tops were applied.
Below that are two shots from the Peter Gates collection illustrating -ANT (upper) at
Brisbane in its ultimate (Australian) livery, and (lower) carrying the registration XW-TDK,
prior to being flown to Cambodia where it had been sold following a decade of cargo
work in Australia. Now, it turns out that XW-TDK should really have been XW-TDM,
so either the sign writer got it wrong or (more likely) the paperwork emanating from
Cambodia was screwed up. In the event, it probably left Australia as it is seen here
and was repainted upon reaching Phnom Penh. It was shot down in Cambodia by
communist rebels in 1973.