VH-ANQ Douglasa DC-3CG202A 'Dromana' (c/n 3271)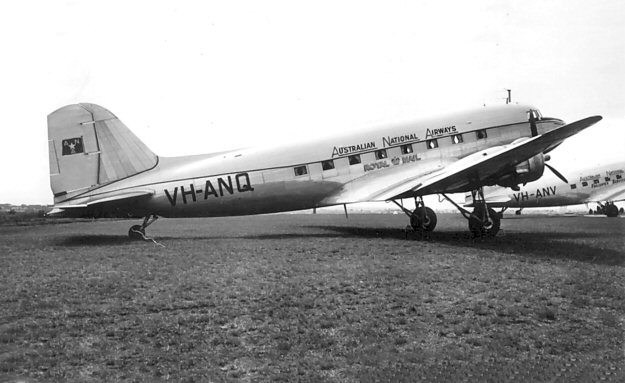 Sister ship to VH-ANN (the one before it on the production line). Was to have been NC1946
for TWA. Diverted as a C-48-DO with serial number 41-7686. Operated by RAAF with
call sign VHCDG and nose name of '

Mucky Minnie'

Operated by ANA in wartime mode as
VH-CDG. To ANA in 1946 as VH-ANQ. My shot above was taken at Essendon in 1955.
Ben Dannecker's, immediately below, prior white top days, was probably shot in the late 1940s.
It is carrying the name

'Dromana'

(Pelican). Acquired by Ansett-ANA in 1957. Did stints
with Victorian Air Coach Services (see photograph below, courtesy Barry Maclean) and Airlines
of NSW (photo on bottom of page by Greg Banfield taken at Mascot in August 1966). -ANQ
was withdrawn from use in 1967 and scrapped at Essendon in 1969.