VH-ANP Douglas DC-3CG202A 'Boyana' (c/n 4096)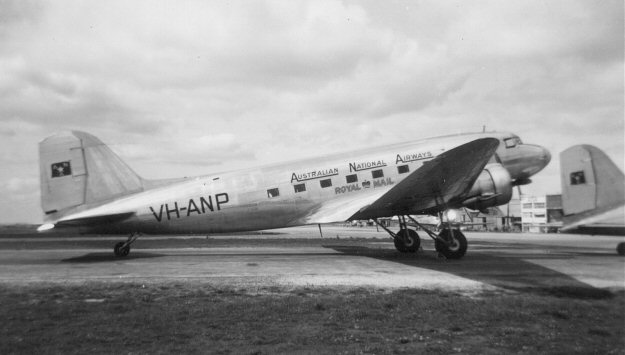 I have four photographs of VH-ANP. The first, above, shows it in early 1950s livery
The lower shots show it in white top in the mid 1950s and in Guinea Airways Ltd markings.
Sister ship to VH-ANO. Built for Eastern Air Lines as NC28388 but not delivered.
Diverted to be a C-49B-DO as 41-7693 with the USAAC. Went to the RAAF as
VHCDE, with nose name of 'Airline Ailsie'. Operated by ANA during the war as
VH-CDE. To Australian National Airways in 1946. Leased to Guinea Airways in
1956 in whose markings it is shown below at Essendon. Became part of the Ansett-
ANA fleet when Ansett absorbed ANA in 1957. Did time with both Airlines of South
Australia and Victorian Air Coach Services before being scrapped at Essendon in
1969. The Peter Gates image at the foot of the page, taken at Essendon in 1965,
shows it in its ultimate livery.