VH-ANO Douglas DC-3CG202A 'Tinana' (c/n 4094)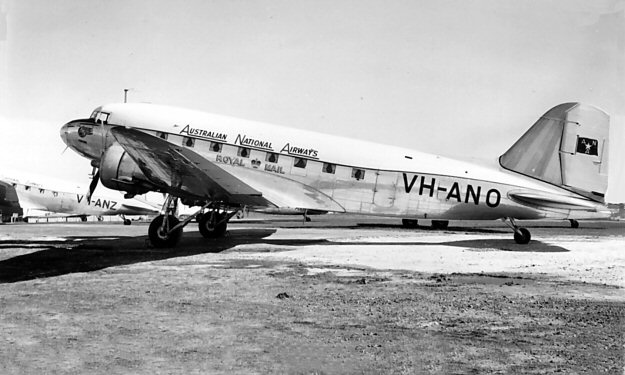 Another 'true' DC-3. Built for Eastern Air Lines and to have become NC28386, VH-ANO
was a Douglas DC-3-387 diverted on the production line to become a C-49B-DO with the
military serial 41-7691. It was seconded from the 5th Air Force to the RAAF with the call
sign VHCDD and nose name of "Eager Elaine". ANA used it on military courier work
in the last months of the war and the call sign was changed to incorporate a dash giving it a
civil looking appearance, viz: VH-CDD. It was civilianized in May 1946 as VH-ANO.
Passing to Ansett-ANA in 1957, the aircraft was operated by Victorian Air Coach Services
in 1966, then to Ansett Airlines of Australia before being withdrawn from Australian use in
1969. It was then to have gone to Indonesia as PK-PIB but the deal fell through and it eventually
wound up with United Khmer Airlines as XU-FAI. Its registration lapsed in1975 in Phnom Penh.
On a separate page I have posted more images of this aircraft; one in the original post-war livery,
and others showing it in later years. In 2011 I received the shot below, from Wally Civitico who
obtained it from the Exxon Mobil archives showing -ANO leading a line up of ANA DC-3s at
Essendon in the late 1940s.