VH-ANN Douglas DC-3CG202A 'Morobe' (c/n 3272)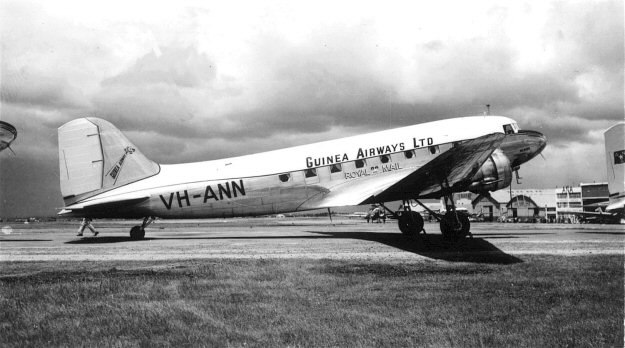 There was a "close business association" between Australian National Airways and Guinea
Airways of Adelaide, although Guinea was not a subsidiary of ANA, even though their aircraft
had almost identical liveries. Since Guinea were limited to services within South Australia and the
Northern Territory, the airline posed no threat to ANA's intra-state services. Many of Guinea's
DC-3s were either leased from, or sold to them, by ANA. -ANN was one of them. Subtle livery
changes were made. In addition to the cabin titles (and generally a renaming) the 'Guinea Airways'
fin flash was also added. I do not possess a photograph of -ANN in ANA livery. It was leased
to GAL in 1953. I was living in Tasmania at the time and, since -ANN was never used on the
Tassie run, I do not have a photograph of it in ANA markings. However, it did a stint with Ansett-
ANA division Airlines of South Australia and a nice shot of it in that livery appears below, courtesy
of Peter Gates.
VH-ANN began life as a DC-3-384 destined for TWA as NC1947. In the event it was diverted
on the production line to become a C-48-DO for the (then) USAAC as 41-7687. Assigned to the
5th Air Force it wound up in Australia and was seconded to the RAAF with the call sign VHCDB
and nose name of 'Lady Eve'. In the final months of the war ANA operated it on military courier
duties with the civl-looking call sign VH-CDB. It was civilianized, along with the rest of ANA's DC-3s
in 1946. As indicated above, it was leased to Guinea in 1953. It returned to Ansett-ANA owner-
ship in 1960 as part of the Airlines of South Australia fleet. It did a 2-month stint with Queensland
Airlines in 1965 and was scrapped at Essendon in 1966. The nose of this aircraft was, until recently,
on display in the Moorabbin Air Museum.