VH-ANI Douglas DC-3G202A 'Kabana" (c/n 4119)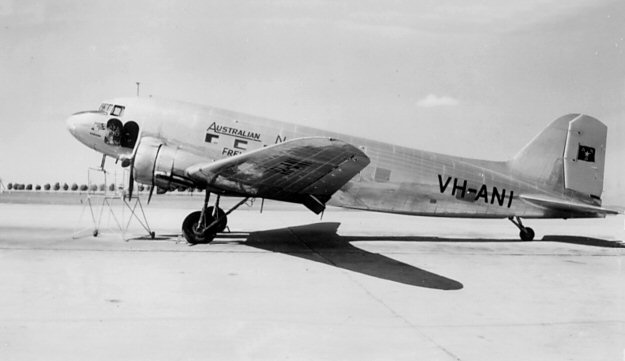 Sister ship to VH-ANH. Was to have been NC33656. Became C-50-DO 41-7697 with
the USAAF, then VHCDK with the RAAF (nose names 'Laka Nookie'; later 'Kqitchyr Bichn'),
then with modified call sign VH-CDK with ANA and Guinea Airways under ADAT control.
Civilianized in 1946 as VH-ANI. It was later used only on freight services. Interestingly, ANA
DC-3 freighters were never white topped. Clearly it was deemed that the freight did not require
protection from the fierce Australian sun (but what about the pilots?). In 1955 ANA sold it to
New Zealand National Airways Corp as ZK-BKE who flew it for a dozen years on freight services.
It was sold in Laos in 1968 to Lao Airlines as XW-TDD. It finally was written off when flying as
XW-TFI for Lanexang Airlines, (operated by Khemara Air Transport) in a crash at Takeo on
15 December, 1974. My shot above at Essendon in 1953.