VH-ANG Douglas DC-4 'Palana' (c/n 10347)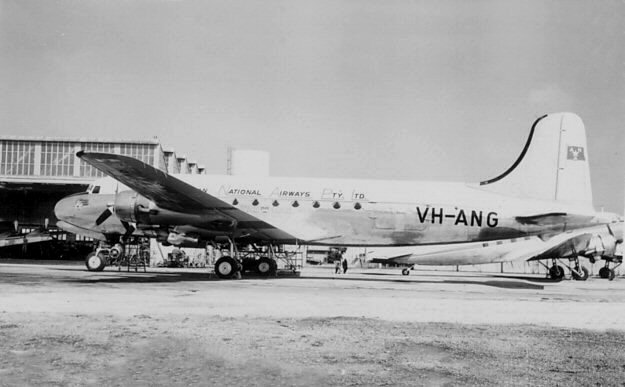 The above, washed-out, uncontrasty shot was taken on a very hot day in January, 1955.
At a later date I will attempt to make a better print of it. Anyway, the second VH-ANG,
like the second -ANF was an ex USAAF C-54-15-DC (42-72241) which had also been
operated by Western Air Lines for which it flew as N88784. They sold it to American
Airlines who operated if for a year before unloading it to Australian National Airways.
ANA held it for the ten years between 1948 and 1958 from whence it went to Twentieth
Century Airlines in Burbank, California (who had also purchased -ANB and -ANE).
It appears then to have been sold to an outfit entitled Seven Seas Airlines and christened
"Indian Ocean". They were obviously doing charters, etc. in India for it came to final
grief in a crash 12 km from Nagpur in 1961. When the DC-6s were obtained from
National Airlines, VH-ANG was one of the DC-4s repainted in the livery adopted at
that time (which was basically National Airlines' own). See photograph below.