VH-ANG (3) Bell 47G-3B-1 (c/n 6558)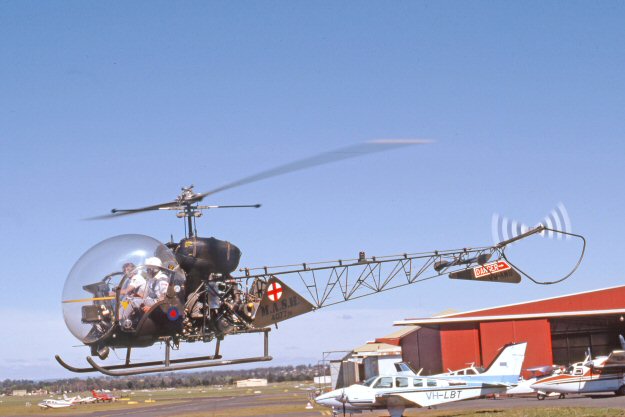 This Bell chopper was acquired by Ansett-ANA in October 1966 in the days when the airline was
dabbling in helicopters. It carries the rego previously worn by several DC-4s. Anyway, a couple
of years later in March 1968 it was sold to Helicopter Utilities. It was then sent to work in Papua/
New Guinea and in May 1974 changed its Australian registration for a PNG one, becoming P2-ANG.
This was later changed to P2-URE, although in March 1978 it was repatriated back to Australia as
VH-ANG again, this time for Heli-Muster Pty Ltd. It crashed at Killarney, NT in September 1978
although was subsequently repaired. By the 1990s it had been sold off by Heli-Muster and has had
several owners since then. It is still current and owned by Arafura Helicopters Pty Ltd of Alice Springs,
NT. Greg Banfield's shot of it above was taken at Bankstown in October 1986 while it was still with
Heli-Muster, although all dolled up in pseudo M*A*S*H 4077th livery. The dark khaki makes the
rego and titling difficult to make out and even though I have enlarged the salient features below, it is
still hard to read!.