VH-ANC Douglas DC-4-1009 'Warana' (c/n 42949)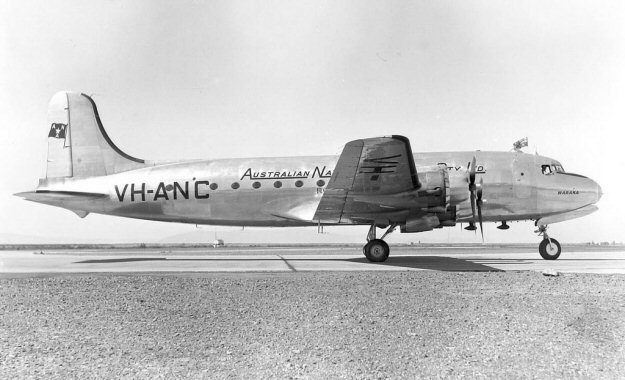 Bill Larkins rare shot above shows -ANB at Oakland in 1946 when the aircraft was operating
a BCPA schedule. By the time my photo was taken immediately below at Essendon in 1954
it had acquired a white top. . This aircraft served with ANA from its delivery in 1946 until
the airline merged with Ansett to form Ansett-ANA in 1957. The No 2 photo below is from
the Ben Dannecker collection taken from the roof of the ANA Terminal at Essendon.
The DC-3s are ANA's VH-ANT and (rear) -IND and (middle) Guinea Airways' VH-AVM.
When the DC-6s were acquired in 1953 from National Airlines of Miami, the remaining DC-4s
which were still with ANA at that time were repainted in the new livery, as the shot at the foot
of the page, also taken at Essendon (1956), shows.. When Ansett took over the airline in late
1957 VH-ANC was deemed to be surplus to their needs and was sold off to SABENA as
OO-SBV. Also, like its sister VH-ANG it wound up with TMA, and became OD-ADO.
Whilst with this airline it undershot the runway at Azaibo, Muscat in January 1962 and was destroyed by fire.