VH-ANA Douglas DC-4-1009 'Amana' (c/n 42910)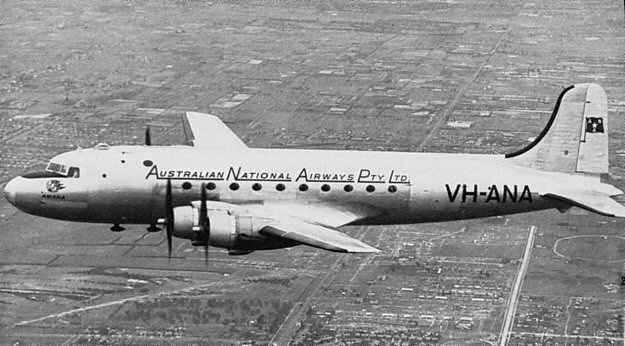 The ill-fated first DC-4 of Australian National Airways. The first five DC-4s delivered to
ANA were "true" DC-4s, known as the Douglas DC-4-1009 model. i.e. purpose built
as civilian airliners, and not converted C-54s. In accordance with ANA's naming policy
of the day, they were all given names with an aboriginal flavor ending in '-ana'. VH-ANA
had its first flight at the Douglas plant at Santa Monica Municipal Airport (later to become
a frequent haunt of mine) on 28 January 1946. It transited the Pacific and was delivered
to ANA on 9 February of the same year. From 1948 until 1948 ANA flew trans-Pacific
flights for, and on behalf of, the as yet un-born British Commonwealth Pacific Airlines.
The photo at the foot of the page, from Exxon Mobil archives (via Wally Civitico) shows


'Amana

' being refueled at Oakland, California during the years that these flights were under-
taken. The flag flying from the cockpit appears to be a white ensign. The other two photos
(above and below) came from Australian National Airways.
. On 22.00 hours on 26 June 1950

'Amana

" departed Guildford Airport, Perth en route to
Adelaide and Melbourne. It crashed some 12 minutes later near York, W.A. with the loss
of 29 lives. Although the cause of the crash was never truly identified it was suspected that
it was due to engine failure caused by an open cross-feed drain cock.
.