VH-AMX (1) de Havilland D.H.82A Tiger Moth (c/n DHA133)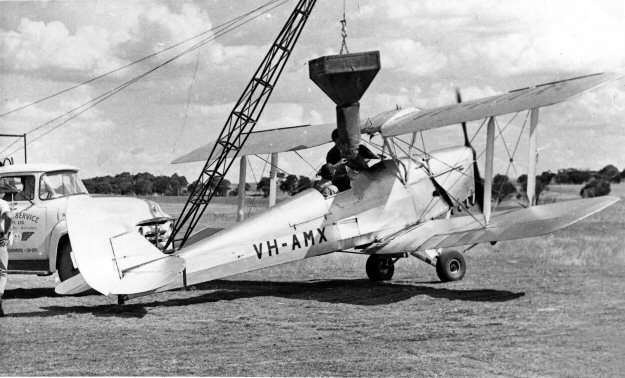 VH-AMX was another of the original Royal Aero Aero Club of WA Tigers acquired after WW II.
(formerly the RAAF's A17-136) It is seen above (after the club had sold it) in action with Aero
Service Pty Ltd somewhere in the WA wheatbelt, circa 1957. On 24 October 1954, whilst still
with the club, it had crashed into trees on Rottnest Island, 19 km off the coast of WA, as seen in
the image immediately below. Following that accident it was not rebuilt by the club, but sold off
to Aero Service who converted it into a crop sprayer. As a duster it had another accident (bottom
of the page) on 31 January 1958 at Maylands, being yet another victim of the notorious Swan River
levee bank on the aerodrome boundary. The Tiger struck the levee during landing on a training sortie
for a new Aero Service ag pilot. It was quickly rebuilt and returned to crop dusting service and was
later being re-registered VH-WFQ when the Aero Service fleet was put into the VH-WF series to
acknowledge the supplier of their superphosphate and spraying chemicals, Westfarmers. It has
now been rebuilt as a standard two-seater and registered VH-EEI.