VH-AMP ("VH-WLQ") de Havilland D.H.82A Tiger Moth (c/n DHA358

)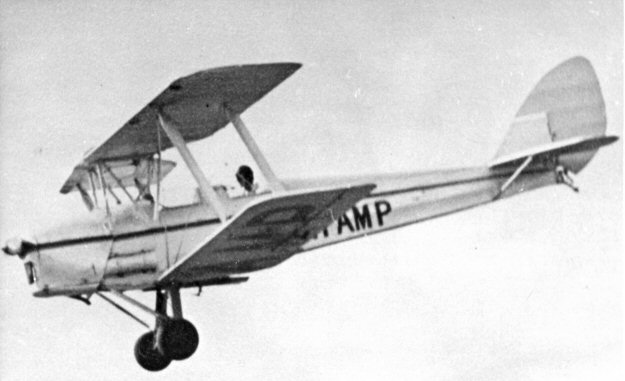 The above Ted Fletcher photo (via the Geoff Goodall collection) shows VH-AMP circa 1948 while
the Tiger was with the Aero Club of WA (The club did not receive its "Royal" status until 1951). In
1953 this was among the first Tigers in WA to be converted for aerial agriculture, and was operated
by Bob Couper Co at Cunderdin. Immediately below is an image by Geoff taken on a farm near
Cunderdin, WA in January 1969 after it had been fitted with the fin and rudder of VH-WFQ. The
Fox Moth VH-USJ was also rolled out for Geoff's photo-op. (Nice of them). -AMP was one of a
large fleet of cropdusting Tiger Moths operated by Bob Couper Co, based at the old WW2 No.9
EFTS aerodrome at Cunderdin. When the type was grounded for agricultural service by DCA in
1965, Bob Couper Co was left with a large collection of dismantled agricultural Tigers, crashed
aircraft and spare fuselages and wings. At that time Tiger Moth components had little value, and this
whole collection, along with the Fox Moth were acquired "as is" by a local farmer and moved to a
shed on his farm near the aerodrome. A few years later the collection, which included a dozen Tiger
Moth fuselages, was sold to Les Kordys at Trayning, WA and moved to a storage shed in the main
street of this small wheatbelt town. Happily, some years later the collection of Tigers was purchased
by a restoration operation at Luskintyre, NSW where a "production line" of newly restored Tigers
was set up. Photos of many of these appear on this website However, VH-AMP did not wind up
on the Luskintyre production line. In January 1974. this Tiger, the former A17-339 and originally
civilianized early in 1946, was given a minimal restoration for display in a folk museum in Cunderdin.
It was meant to commemorate the many RAAF Tiger Moths which had trained pilots at the local
EFTS during the war, and was painted up in RAAF trainer yellow. Unfortunately the locals who did
the job left part of the agricultural spraying gear under the fuselage and, for reasons unknown, decided
it should have a civil registration painted on, rather than its real RAAF serial (A17-339). Since it had
been fitted with the fin of one of Bob Couper's other Tigers (VH-WFQ), they chose this for a civil
registration. However, to compound the felony, even this fact got lost in the translation and the poor
old thing was was painted as "VH-WLQ", a registration which was never used on a Tiger Moth.
The identity of this displayed aircraft has caused consternation to plane spotting enthusiasts ever since!
Geoff's shot at the foot of the page was in January 1974, just after it had been suspended from the ceiling.