VH-AMN de Havilland D.H.84 Dragon (c/n 2059)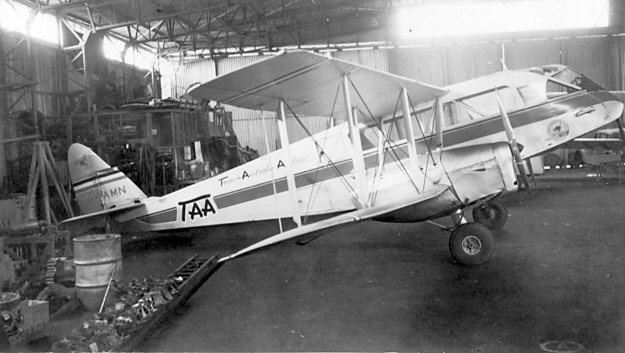 In 1949 TAA acquired Qantas' Queensland operations, when that carrier wanted to divest itself
of domestic operations and concentrate on overseas routes. Much of this work was in association
with the Royal Flying Doctor Service, and the air ambulance normally used in those days was the
Dragon. VH-AMN was one of these and is seen in TAA's hangar at Brisbane's Eagle Farm Air-
port in 1952. VH-AMN was built by de Havilland Aircraft of Australia Pty Ltd at Mascot*
during the war and served with the RAAF as A34-70. Imagine my surprise, when, one day,
I came across VH-AMN at Moorabbin, now serving with the Airfarmers Division of Schutt
Aircraft and Sales Co. At first I thought they had turned this venerable old kite into a crop duster,
but I believe it was used as a company hack in support of crop duster pilots.

* As an aside, it is interesting to note that, despite references to the contrary (and by many
qualified historians), the Australian Dragons were not built at Bankstown but at Mascot,
since the Bankstown plant was not completed until DHA were embarking on Mosquito
production. Noted historian John Hopton has wartime RAAF PR photographs showing
the Dragon production hangar with the rear doors open and clearly showing the railway
line up on the embankment that run alongside the old Mascot aerodrome boundary.