VH-AMK Douglas DC-3CS1C3G (c/n 13362)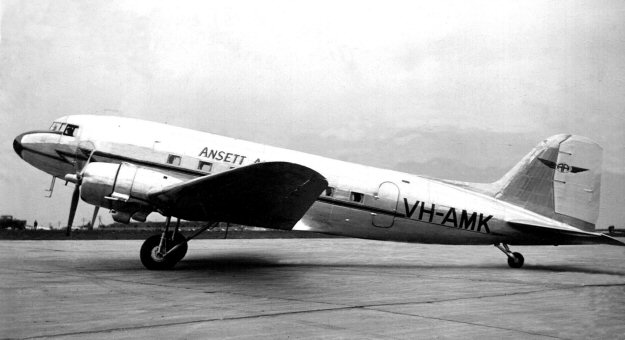 In the immediate post-WW II era, to augment their Lockheed 10As, Ansett Airways acquired
three DC-3s, the first of which, VH-AMK 'Anstratus' seen above. The other two were VH-AML
and - AMJ. All three were re-registered in the VH-RM series in 1948 (the first of which were the
founder's initials - R.M. Ansett). Consequently photographs of them in VH-A-- markings are
comparatively rare. This above shot is circa 1946, as is the one below, from the CAHS archives.
VH-AMK became VH-RMK and later, VH-BZK. It was sold to Thai Airways in 1958 as
HS-TDG. Its certificate of airworthiness was finally cancelled in 1973, although it was in store at
Don Muang Airport, Bangkok (the one with the golf course between the runways) until 1979 when
presumably it was scrapped.