VH-AMB (2) DHC-1 Chipmunk 21 (c/n C1/0383)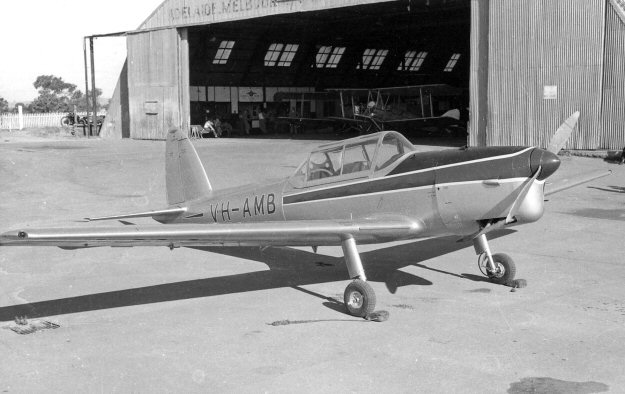 The Royal Aero Club of WA was the first of the Australian clubs to introduce the Chipmunk, and
built up a large fleet of them until they were eventually replaced by the first of the Cessnas . The
above image, from the Geoff Goodall collection shows VH-AMB at Maylands Aerodrome, Perth
on 4 January 1952 just after it had been assembled and two weeks prior to its receiving its Australian
C of A. At that time the club was using the old ANA hangar (originally built for West Australian Air-
ways' big DH.66 Hercules used on the Perth-Adelaide service). A civil Mark 21, VH-AMB was
diverted from the RAF production line at Harwarden, Cheshire, and its rego was in honor of Club
President A.M. Bay. The shot below, also via Geoff shows -AMB at Perth Airport in May 1959
after the club had moved there from Maylands. By that time it had been repainted in the RAeCWA
standard red with the fleet number 'Chipmunk 2' It was sold in April 1962 to the Mid Murray Flying
Club of Swan Hill, Victoria, and was the first Chipmunk to be flown across Australia when it was ferried
from Perth to Victoria in May 1962. Bob Neate's photo of -AMB at the foot of the page was taken
at Moorabbin in March 1963. It was later to acquired by Sasin Aircraft of Goulburn, NSW where it
became the prototype of the Sasin SA-29 Spraymaster VH-SJD.