VH-INN Douglas DC-3CS1C3G (c/n 4969)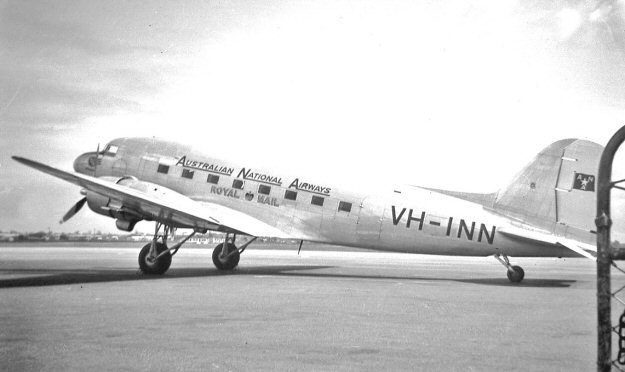 This DC-3 was originally built to a United Airlines order and would have been NC33690 had
the war not intervened. In the event it was impressed into service with the USAAF as 43-2025
a C-53C-DO, and was then seconded (I suspect simultaneously) to the US Navy as a R4D-3
with BuAer No. 06998. In March 1947 it was civilianized as VH-AKG for Butler Air Trans-
port but withdrawn from use in December of that year. Restored, it became VH-INN and
named '

Gwingana

' for ANA. In September 1953 ANA sold it to dealers Aviation Sales of
Sydney and it was immediately ferried to Saigon on delivery to French long-distance airline
Aigle Azur as F-OAPC. It was destroyed 4 March 1954 by Viet Cong attack at Gia Lam,
Hanoi. Ben Dannecker's rare shot was taken at Mascot circa 1953.