VH-AKI (1) Avro 652A Anson 1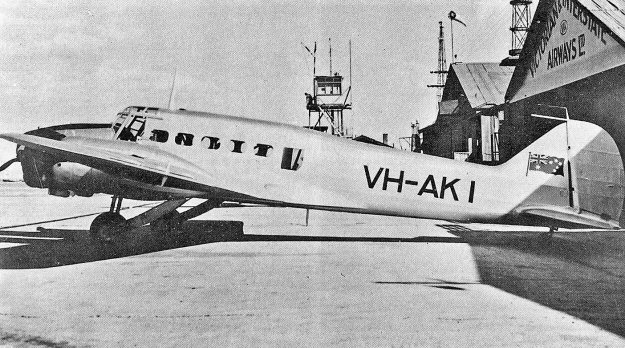 In 1947, in a unique sort of "reverse immigration", or repatriation, I should say, for Mr. Eric
McIllree of Sydney sold a number of ex-RAAF Ansons back to the old country. Eric was
a colourful Sydney motor dealer and aircraft salesman, who purchased many RAAF Ansons.
and was prominent in civil sales of several of these in the early postwar years. Seen above is
this shot from the Geoff Goodall is one of them at Essendon in 1947 just prior to its epic trip
to the U.K. The photo below, also from Geoff shows -AKI en route at Bahrein in April 1947.
It became G-AJSD.. Accompanying it on the ferry flight were VH- ALX (ex DG696, which
became G-AJSE) and VH-ALY (ex AX261 to become G-AJSC). McIllree was also the
first to set up a car hire business in Australia, along with several short-lived air charter firms
such as Amphibious Airways in Rabaul, New Britain with ex RAAF Ansons and a Walrus.
He later went on to establish Avis Rent-a-Car in Australia. Photos 3 & 4 are two shots by
A. J. "Jack" Jackson (also courtesy of the Geoff Goodall collection) of G-AJSD at Southend
in the late 1940s. The upper shot illustrates it in the livery of British & Continental (Air Charter
& Freight) Ltd Airways. It evidently left Southend on a freight charter to South Africa on
10 May 1947 and is later reputed to have flown freight to the Middle East. The lower (bottom)
image shows it derelict at Southend Airport in 1949. It was RDP'd soon afterward.