VH-AJE (1) de Havilland D.H.82A Tiger Moth (c/n DHA186/T187)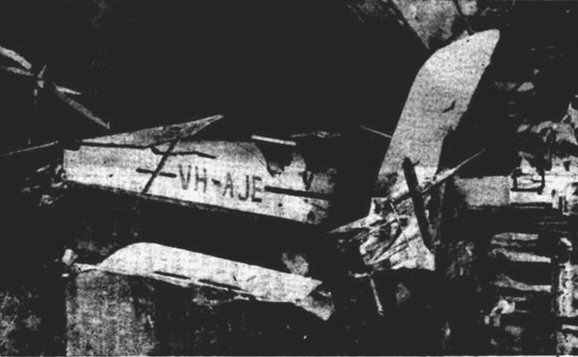 Actually this photograph, as rendered in the Sydney Herald for 23 October 1949 has
been rotated clockwise through 90 degrees. However, since the resultant crash is such
a mess I figured it would not make much difference if I portrayed it in my normal land-
scape style! The Tiger, first civilianized in May of that year (ex A17-185) , was owned
by Truscott Flying Club. Pilot William Fraser said he was on a training flight over Home-
bush at a height of 1,500 ft on 22 October when the engine cut out. He tried to land in
the playing area adjacent to the biscuit factory of William Arnott Pty Ltd but high cross
winds forced him towards the high sewer vent on the edge of the canal. Striking that
vent the aeroplane came to rest in the canal. Fraser was not injured but the Tiger was
written off.