VH-AIP (1) de Havilland D.H.82A Tiger Moth (c/n DHA184)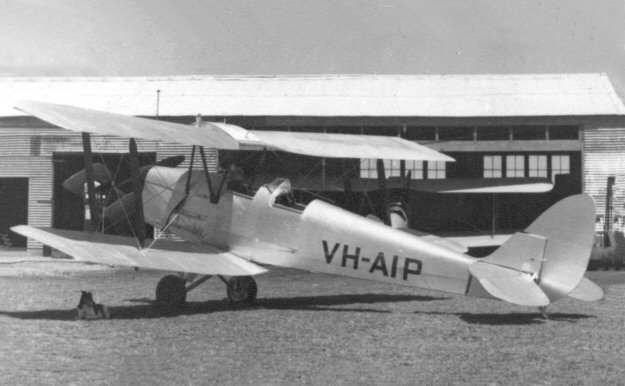 The photos above and immediately below of this Casino Aero Club Tiger are from the Alan J.
Sheppard collection. Alan's father was a member of the club from its inception in 1937 until
well into the 1950s. The image above shows it outside the original hangar at Casino soon after
its civilianization from A17-183, and Alan suspects that it was still sporting its trainer all-yellow
scheme. The scene below was on the Beach at Byron Bay, and -AIP by then was painted silver
overall with red trim and rego and named

'Miss Lismore

'. 'Casino Aero Club' was the titling
on the rudder. At the foot of the page is an image from the Roger McDonald collection showing
VH-AIP after its crash at Brunswick Heads, NSW on 5 March 1950. A report from the Bris-
bane Courier Mail for the next day indicates that the pilot, Neville Carter, and his passenger were
both seriously injured in this crash. The newspaper report goes on to state that the aircraft
suddenly nosed down onto the beach, but no explanation was given for this. Sounds like it may
have stalled, especially since the slats appear to have deployed. . Judging by the photo I would
say that, in this day and age, the aircraft would have been salvaged. .