VH-AIE (2) Cessna 182J/Wren 460 (c/n 57556/38)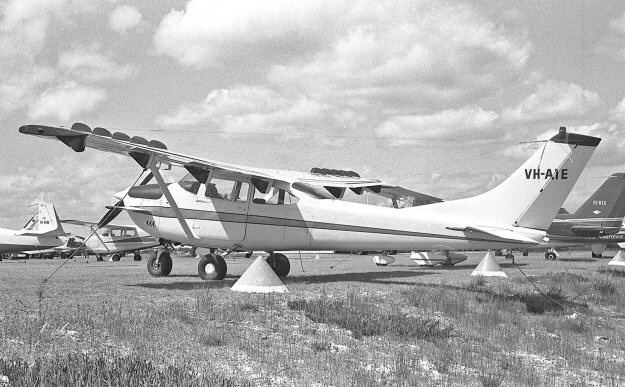 The Wren 460 was a conversion of the Cessna 182 airframe that had full-span double-slotted flaps,
movable spoilers to assist the ailerons with roll control and a movable high-lift canard. This canard
can be seen on the forward fuselage on the above shot from the Geoff Goodall collection taken at
Jandakot, Perth in March 1970. Later models of the Wren conversion offered a reversible pitch
propeller for steeper approaches, and shorter landing runs. The machine was marketed as the only
safe STOL aircraft. -AIE was finished in an attractive white with gold trim and was owned, at the
time, by Australian Inland Exploration Company and was used for outback mineral surveying, where
its slow flying qualities were used to good advantage. VH-AIE had been imported (ex N3556F) in
1967 and assembled by Mafair at Ballarat before departing for WA on 16 July 1967. . It actually
flew under its US registration until March of 1968 while its "first of type" certification paperwork was
sorted out by DCA. The only other Wren in Australia was VH-RAJ which was based on a 182G
model. Despite various bush accidents, VH-AIE survives today (2011) and is currently privately
owned, registered in rural Bungador, Victoria.