VH-AGU (2) Douglas DC-3CS1C3G (c/n 15920/32668)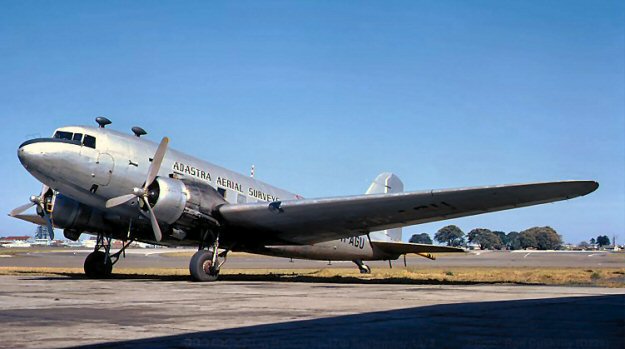 The second VH-AGU was a DC-3, and this colorful shot of it was taken by Ron Cuskelly at
Mascot in 1972, although it actually came onto the VH- register in 1959. Note magnetometer
on tail. This aircraft was an ex USAAF C-47B-35-DK (44-76336) and served in the RAAF
as A65-72 with the radio call sign VHCIO. For a complete (and technical) history of it, plus
photographs of -AGU in subsequent liveries, go to Ron's excellent site at:
http://www.adastra.adastron.com/aircraft/dc3/vh-agu.htm
Since this aircraft was also leased by the Australian Department of Transport in the 1970s,
details of the work performed by VH-AGU in that era can be found at:
http://www.airwaysmuseum.com/DC3%20VH-AGU.htm

From 1961-1964 the aircraft was operated by the West Australian Adastra subsidiary
Westralian Aerial Surveys. Geoff Goodall's shot of it in that livery (below) was taken at
Mascot in Sydney in 1964 just before the aircraft was registered to Sepal Pty Ltd.
The 1970s saw it flying for East-West Airlines, and the middle image of the three below,
from the Phil Vabre collection, shows it at Essendon in those days. Finally, Barry Maclean
provides a nice shot of it taken in the 1990s, also at Essendon.