VH-AGL (3) Yeoman YA-1 Cropmaster 250R (c/n 113)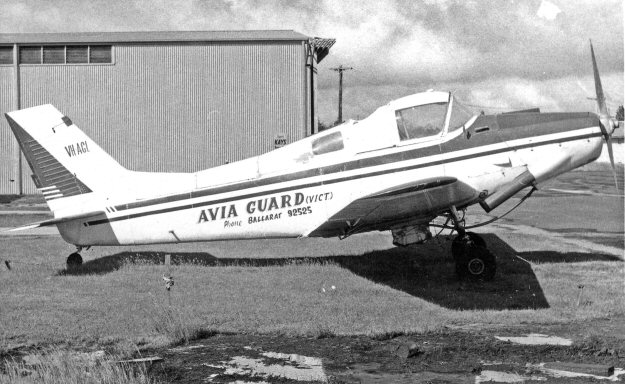 This Cropmaster was built at VH-CYY but was re-registered -AGL when acquired by Avia Guard
of Ballarat in November 1969. Mike Vincent's shot above was taken at Ballarat in December 1971.
It was sold on by Avia Guard in July 1972 to Eveready Air Spray of Wee Waa, NSW, and below
is a color photo by Mike Madden of -AGL at Moree NSW in August 1974 in Eveready's colors
Later that year it was sold to an ag operator at Pittsworth Qld, then moved on to another operator
at Emerald, Qld, where it was damaged in forced landing on 29 January 1976. The airframe was
collected by Sydney enthusiast John Gallagher for his Wackett Trainer VH-DGR rebuild project,
mounting the fuselage on VH-AGL's metal one-piece mainplane. But fate was unkind, because
during the night while towing the dismantled Cropmaster on a trailer to Sydney, a cigarette thrown
from a passing vehicle lodged between the wing and fuselage and generated an unseen fire which
caused significant damage. The remains of -AGL were distributed between a Victorian Wackett
rebuild project and the Moorabbin Air Museum.