VH-AFQ de Havilland D.H.94 Moth Minor (c/n 94095)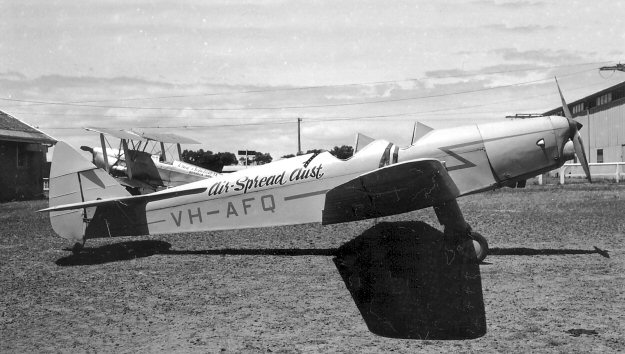 My first reaction when I came across this aircraft at Moorabbin in 1957 was "My goodness,
is there no limit to what they will convert into a crop duster?" However, I believe that this Moth
Minor was actually used for aerial reconnaissance. i.e. specing out which fields led themselves to
top dressing and which ones didn't. Anyway, this aircraft was originally slated for the UK civil
register in 1939 as G-AFUV but, in the event, was shipped out directly to the RAAF where it
became A21-30. It was evidently rescued from its fate with the messy crop dusting business
since Geoff Goodall took the shot of it below in 1966 at Cootamundra, NSW where -AFQ
looks to be in pristine shape again. It was sold in Canada a couple of years later (1968)
becoming CF-AOO.