VH-AFP Beech D17S (c/n 357)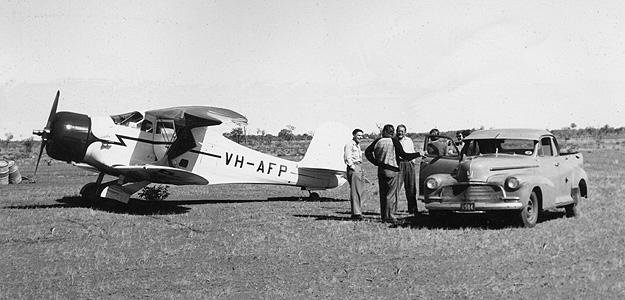 The above photograph is from the Ian Leslie collection and illustrates VH-AFP whilst in the
service of Connellan Airways. (I especially like the Chevvy Ute). Originally built as a D17A
and registered in the US as NC20778, it entered Australia in 1941 and was immediately
pressed into service with the RAAF as A39-2. After hostilities ended it reverted to its rightful
owner, Connellan. For a more detailed description of the above photograph and a history of
VH-AFP go to
http://www.airwaysmuseum.com/Connellan%20Beech%20D17S%20VH-AFP.htm
A later image (below) was taken by John Hopton (photo via Geoff Goodall) at Moorabbin in
December 1961. The Beech was owned at the time by Tadgell Aviation of Toowomba, Qld
and used for crop seeding. It struck a tree and crashed on 22 December 1963 while seeding
at Springton, near Dingo, Qld. Sadly the pilot was killed. The burnt out airframe of this Stagger-
wing was located in April 2007 at the remote crash site and collected by Staggerwing enthusiast
Cameron Hanley and trucked to his hangar at Caboolture, Qld where he is rebuilding Beech
C17B VH-UXP.