VH-AFK de -Havilland D.H.84 Dragon (c/n 2024)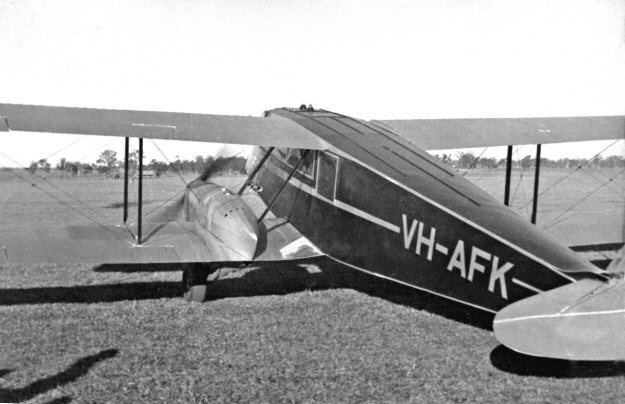 The above photograph is from the Roger McDonald collection. It was one of several Dragon
images gleaned by Roger from an old woolbuyer colleague who used to travel to wool sales in
them in the 1940s. This one was taken at Casino, NSW circa early 1947 whilst the machine
was with New England Airways. The shot below, of unknown provenance, is from the Fred
Niven collection. Australian built, it was ex RAAF A34-35, and civilianized in March 1946 .
It was later sold to Taylors Air Transport of Lae, and departed Sydney on the long ferry flight
to New Guinea on 8 June 1947. It was flown by Joe Taylor and was accompanied by another
Dragon VH-AHY which he had also purchased to set up his new charter service at Lae
.VH-AFK was completely wrecked when engine failure caused a forced landing in high kunai
grass at Bena Bena, New Guinea on 6 September 1948.