VH-AFF (3) de Havilland D.H.82A Tiger Moth
(c/n DHA303)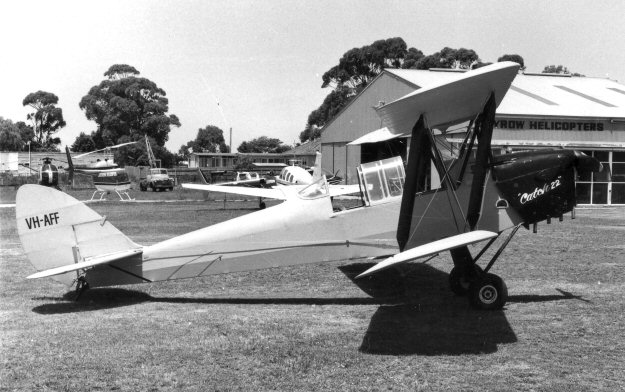 This canopied Tiger was not civilianized until 1976. I am, therefore, making an exception by putting
it up in my selections (my cut-off date is normally such that the aircraft had to have been first register-
ed prior to 1970). This DHA built Tiger was one of several included in a bulk sale by Commonwealth
Disposals Commission to the Association of Australian Aero Clubs, which included the main aero clubs
who grouped together to make a combined offer of DH82s in the immediate post-war period. How-
ever, A17-284 was not given a civil conversion at that time, and did not show up again until January
1963 when a clearout of a hangar at Archerfield exposed the RAAF yellow fuselages of A17-284 and
258 up the back. Both were seen again at Archerfield in April 1965, and Geoff Goodall saw pair tied
down together on a trailer at Bankstown in January 1967 in a small igloo hangar/workshop that was
being demolished around them. A17-284 was rebuilt as VH-AFF, but as far as is known A17-258
has surprisingly never been restored (at least under that identity). Odd, given that Geoff indicates that
it looked in pretty good nick back in 1967. Anyway, VH-AFF was registered on 9 December 1976
to John Janssen of Melbourne. Mike Vincent took the photo of it (above, via Geoff Goodall) at
Moorabbin on the very day it was registered! It retained the name

'Catch 22'

for many years, but
subsequent owners could not resist the temptation and it went from a striking yellow & black scheme
to RAAF trainer yellow and "284" as a serial number without the A17- prefix, as seen in Ian McDonell's
shot (below) taken at Evans Head, NSW in December 2007. It is no longer airworthy and Alan
Sheppard advises (2013) it is now on static display at Evans Head (see his photo at foot of page).