VH-AFA Douglas DC-3CS1C3G (c/n 9813)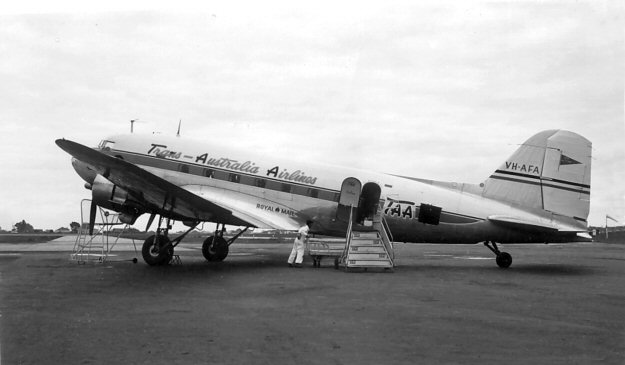 VH-AFA was an ex C-47A-35-DL, serial no 42-23951 registered to TAA in 1945 having
spent a year on lease to Qantas during WW II. It was originally named

'Hume

', then


'Collins',

then

'McMillan

'. Unfortunately in my shot at Essendon in 1954 the name cannot
be seen but it was probably the first one. The photo immediately below is from the Dick
Hourigan collection and shows VH-AFA at Archerfield in April 1945, after its civil
conversion for the Commonwealth Government for the planned new postwar Govern-
ment airline which became TAA, and, at the foot of the page, from the NLA, the aircraft in its
original TAA livery. It flew with TAA until 1957 when it was sold to Australian Aircraft
Sales who had already on-sold 4 other TAA DC-3s to West African Airways. VH-AFA
became VR-NCO. The contract to ferry these 5 DC-3s from Australia to Lagos, Nigeria
was given to Captain Bryan Monkton, founder of Trans Oceanic Airlines in Sydney and
South Pacific Airlines in Honolulu. He captained each DC-3 over 4 months with a different
copilot on each delivery.