VH-AET Auster J/4 Archer (c/n 2072)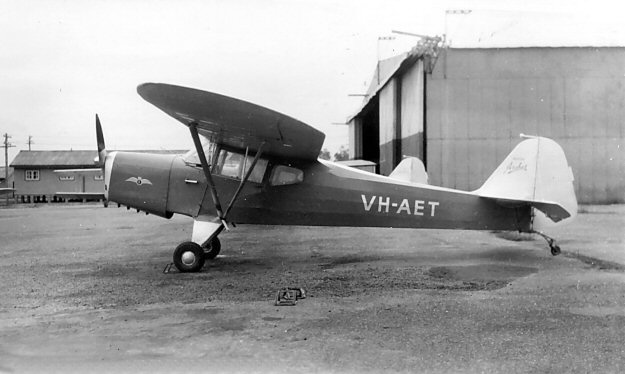 The registration VH-AET became available for re-allocation much sooner than the rest of the latter
VH-AE- series due to the premature demise of the first VH-AET (q.v.). Consequently, this Auster
received these markings in September, 1952. Here it is in Kingsford Smith colors at Bankstown in
June of 1955.
This is perhaps the most famous of all the Austers ever registered in Australia. On 30 August 1955
(also at Bankstown) the aircraft was being hand started (swinging the prop). Unfortunately, the throttle
was open! The aircraft bounded forward and took off, pilotless. Two Gloster Meteor F8s were
scrambled from RAAF Williamtown, although eventually the honors went to the Royal Australian Navy.
VH-AET was ignominiously shot down into the Tasman Sea by a Hawker Sea Fury off Palm Beach.
The insurance claim must have been interesting.