VH-AEQ Douglas DC-3CS1C3G (c/n 6024)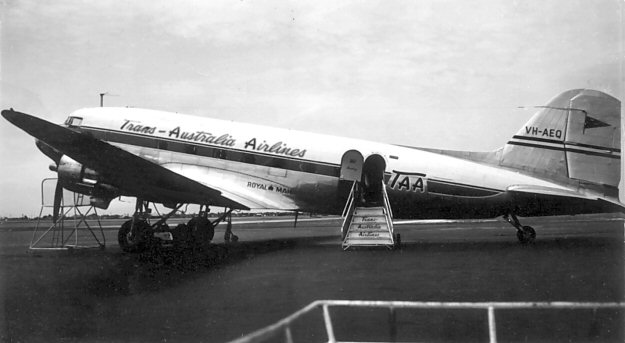 VH-AEQ was the next machine on the Douglas C-47-DK production line to VH-AEP,
USAAF serial 41-18663. Military aircraft seldom stayed together after delivery, but these
two did, both going to the 5th Air Force in Ausatralia, and then being demobbed to TAA
together.in 1944. My shot shows it at Essendon in 1955. Color shots of TAA aircraft
of this era are not common. The one below was taken by Barrie Colledge in July of 1956
(I was around but we never met!). -AEQ was originally named

'Blaxland

' but was changed
when Viscount VH-TVB took that name. (It later became

'Wills

'). Following that is an image
by Greg Banfield showing -AEQ in the livery of TAA's latter-day "Inland Charter" services
taken at Mascot in April 1963. It was withdrawn from TAA service in Novemmber 1969
and leased by Bush Pilots Airways of Cairns in February 1970. It carried the name


"Lakeland Downs".

The fourth shot below is a rare one by Norm Weeding of it at
Eagle Farm in BPA livery. Bush Pilots held it for only one year and it was sold to Lakeland
Downs Ltd of Brisbane.
Ron Cuskelly states the status of this aircraft as:

VH-AEQ is stored dismantled on Alvin Petersen's property "Xanadu" in the Kwambatook
State Forest near Bendigo, Victoria. The aircraft still carries the remnants of the markings
acquired when it was an advertising sign for the Great Aeroplane Car Company in Brisbane.
The aircraft is in poor condition and for sale.

February, 2006: Phil Vabre forwards the photograph on the bottom of the page taken from
Tiger Moth VH-FAH of poor old VH-AEQ as she now is.