VH-AEF (1) de Havilland D.H.84 Dragon (c/n 2057)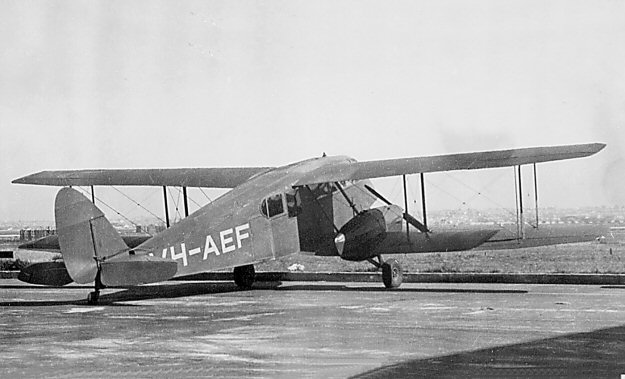 The de Havilland Dragon was designed in 1932 by Arthur Hagg and built at the old D.H. plant at
Stag Lane (in what is now part of Edgware, Middlesex). It was built in response to a request by
Fox Moth operator Edward Hillman for a twin engined aircraft with which he wished to commence
a London-Paris service. This service was, in fact, inaugurated in 1933. 115 Dragons were cons-
tructed in the U.K., whilst 87 were license built in Australia. The type was, in fact, used widely in
Australia. In fact, there were probably more D.H. 84s registered in Australia than anywhere else.
They were certainly very common in the 1940s and 50s. Far more so than in the U.K. Most of
the Australian aircraft were built specifically for the RAAF, and most of these machines found their
way onto the register after the war. The shot below, from the Greg Weir collection is interesting,
albeit that it shows the tail only, as it appears to depict -AEF probably in the Southern Highlands
of New Guinea with the Qantas flag on the rudder.
VH-AEF was previously A34-68 with the RAAF. It was sold in New Zealand in 1955 becoming
ZK-AXI. (See Fred Niven's history below).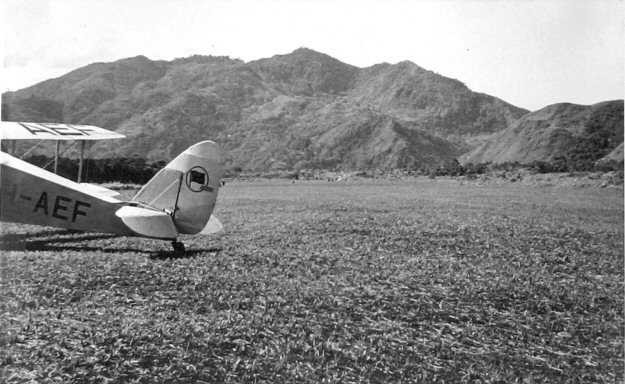 Aviation Historian Fred Niven provides the following additional details:

"Built for the RAAF by de Havilland Australia, Bankstown, NSW.

To the RAAF, as A34-68.
This was the 1st Australian-built Dragon sold post-war & the 1st civil aircraft registered post-war.
Registered VH-AEF to Butler Air Transport Co. 29/4/45 (CofR 805).

Sold to Qantas Empire Airways Ltd. 18/6/48 &
used in PNG, before reportedly being chartered to T.A.A.

Sold by Qantas Empire Airways Ltd. to Fawcett Aviation 14/5/53.
Sold to Rolvin Airways Ltd., Palmerston North, NZ, 7/53.

Reregistered ZK-AXI 14/7/53, but not struck-off the Australian
Register until 11/7/55.

To the Nelson Aero Club, Nelson, NZ, 4/54 & used for charter & aerial ambulance work.


Withdrawn-from-service during 1963, in need for maintenance & sold to A. Bradshaw in 1964.

Sold to E. Cox & J. Bergaman,
of the Auckland Flying School, 4/67.

It was badly damaged 23/4/67, in a ground accident at Ardmore, NZ.
Later donated to the Museum of Transport Technology.

Purchased by G.S 'Stan' & G.A. 'Gilly' Smith in 1982.
It underwent a 10-year rebuild, completed in 1996; returning to the NZ Register 3/3/97.

It was test-flown 22/4/97,
its 1st flight for more than 30 years."