VH-ADG de Havilland D.H.90 Dragonfly (c/n 7516)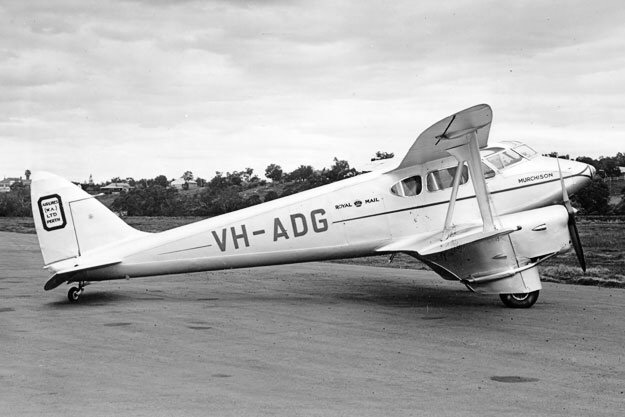 This gorgeous shot of an Airlines (W.A.) Ltd Dragonfly comes from the Civil Aviation Historical
society archives. It was registered for the time, a couple of years out of sequence. (VH-AAG
would have been nearer the mark) but, being ex G-AEDG retained its UK 'last two'. It was
originally acquired in October 1937 by the Hon. James V. Fairbarn, the then Minister for Air,
who used it is a private aircraft, having flown it out from England himself. The photo at the foot
of the page, from the Geoff Goodall collection, shows the Dragonfly as G-AEDG just after it
arrived at Canberra with Fairbarn on the wing The aircraft was named

'Spirit of Flinders'

.
and Fairbarn flew it around Australia to review all the RAAF stations. Fairbarn was sadly killed
in August of that year in the crash of a Lockheed Hudson at Canberra). Previously, however, he
had relinquished -ADG to the Government who in turn passed it to Airlines (WA) Ltd of Perth)
to replace their Dragon VH-URY which had been earmarked for impression into RAAF service.
Charles Snook, AWA's founder, left Essendon in July 1940 to bring -ADG back to Perth then
delivered -URY from Perth to the RAAF at Parafield that same month. VH-ADG was named


"Murchison"

in AWA service as can just be discerned in the image above taken at Maylands,
Perth, in July 1940. The Dragonfly was damaged beyond economical repair on 1 December 1947
when it ran off the runway and overturned. It was operating a regular newspaper delivery service
to Bunbury and southwest towns, which involved air-dropping bundles of papers. Captain Colin
Cook and a passenger were not injured but the dropping boy was hurt when buried under the
bundles of newspapers. The image immediately below, also from Geoff's collection and shows poor
old -ADG just after the accident.