VH-ADF Fairchild 24R-40 (c/n R40-407)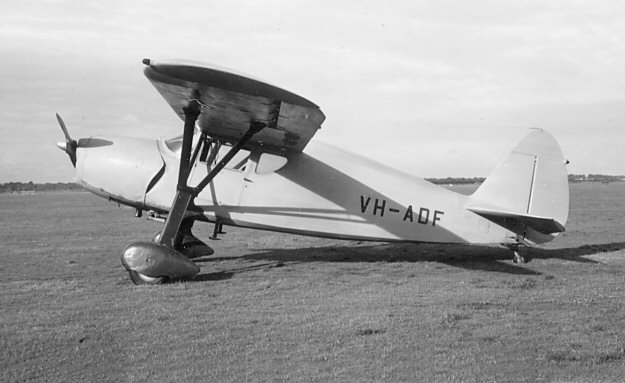 This aircraft was first registered in 1940 to the Right Honorable Richard Casey of the Australian
Legation in Washington, DC as part of the war effort, negotiating US equipment and forces for the
Pacific War against the Japanese. Casey purchased this brand new civil production F.24R-40
for his personal use in the USA. It was alloted the registration NC47053, but, in the event, the
CAA refused to allow the aircraft to be registered as such due to its "foreign ownership:" (Prob-
ably a bit touchy in those early days of America's "neutrality"). DCA therefore allocated VH-ADF
for it, and it was painted up as such by Fairchilds. It was shipped to Australia in 1942 and Casey
donated it to the RAAF who gave it the military serial A36-4. It was returned to Lord Casey after
the war and based at his private airfield at Berwick, Victoria. When I took the shot above at
Moorabbin in 1956 it was still owned by Lord Casey and still in its original finish of overall yellow
with green struts and undercarriage.. The image below, from the Geoff Goodall collection, shows
it at Bolling Field, Washington, DC in the early 1940s. . It later went to a succession of private
owners before being withdrawn from the register in 1974.