VH-ADE de Havilland D.H.89 Dragon Rapide (c/n 6341)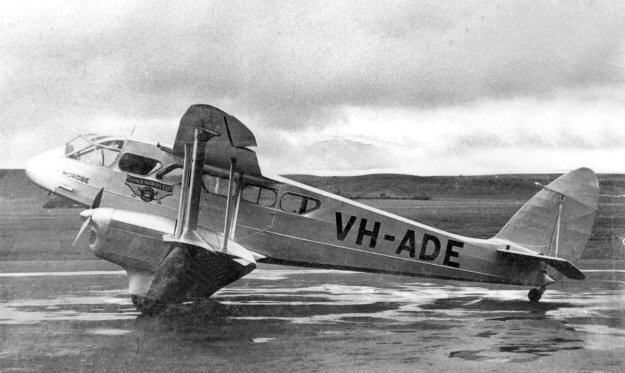 This was the former EI-ABP and G-AENO before that. It was acquired by Guinea Airways in
June 1940, who named it

'Morobe'.

The above shot, taken at Parafield in 1940 is from the Geoff
Goodall collection. Guinea Airways purchased this Rapide and two Lockheed 14s from the Irish
airline Aer Lingus Teoranta which had ceased all services because the war. The Lockheeds were
flown to Australia, and the Rapide was shipped to Port Adelaide but only 3 months later VH-ADE
was impressed by RAAF as A33-7 for the Empire Flying Training Scheme. A photo of it in that
guise appears below. It was later released to ANA in April 1942 and was written off after a forced
landing on a beach at Princess Charlotte Bay, in the far north of Queensland on 26 January 1944.
The Rapide was located by a RAAF Catalina which landed to collect the occupants and mail bags,
and it was stripped for parts which were trucked back to home base in Cairns.
A postscript to the story is that in 1946 DCA ordered that a stock of RAAF DH.89 spares held by
DCA at Cairns for ANA be burnt, under an agreement over aircraft loaned to the airlines in wartime
conditions. It appears that the order was not fully carried out because as late as May 1978 a collection
of parts from VH-ADE including 3 wings was discovered in a DCA workshop at Cairns airport, and
were donated to "Doc" Penny who was rebuilding DH.89 G-AJSL at Sunbury near Melbourne.