VH-ACW Fairchild 24R9 (c/n 415)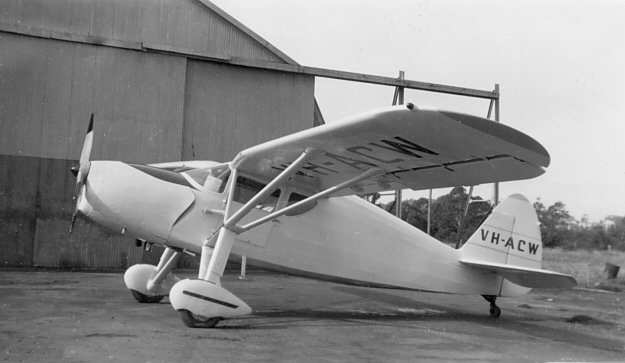 Sister ship to the previous aircraft and delivered on the same boat. This aircraft was allotted
the military serial A36-4 but for some reason it was not taken up. John Andrade at the site

http://www.adf-serials.com/2a36.shtml

states "Never delivered and therefore serial not taken up". That sounds as if the owner reneged
on handing it over! However, noted aviation historian Fred Niven advises: The aircraft was
"impressed into the RAAF, date unknown, until 11/11/42, as A36-4. However, its impressment
orders were deferred as it was already being mainly used for Army co-operation duties, and the
order was rescinded 11/11/42." It is seen in the shot immediately below from the Alan Betteridge
collection (via the CAHS) in war time camouflage, still wearing its civilian rego. I have gleaned
several shots of this machine. My own above was taken at Bankstown in the mid-50s. Photo
no 3 below shows it just after its arrival in 1939. Oddly, it was soon repainted, as seen in the
photo # 4 from the Nigel Daw collection taken circa 1940. At that time it was owned by Bert
Bond who was a bus operator (Bond's Tours). Finally, at the foot of the page is a Geoff Goodall
shot taken at Warracknabeal, Victoria in April of 1967, sporting a smart livery.