VH-ACV (2) Piaggio P.166 (c/n 354)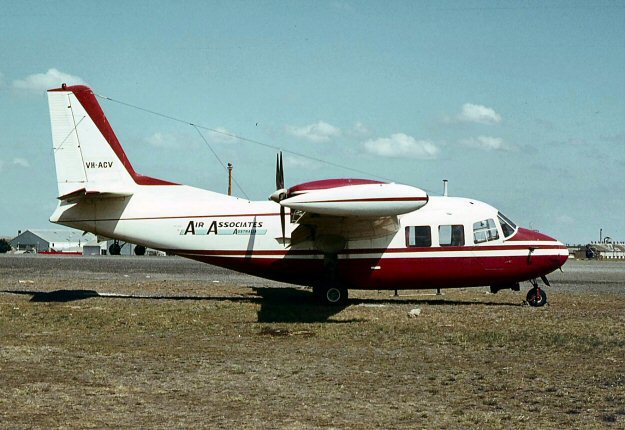 The second aircraft to bear to rego VH-ACV was this Piaggio which had come in from the
U.K. in March 1964. Bob Neate's shot (above, via the Geoff Goodall collection) was taken
at Essendon in 1965. It was formerly G-APSJ, first registered in early 1959 to the Sir Robert
McAlpine construction company. The flight from the U.K. (undertaken by Captain Jack Ellis)
had many delays, including an undercarriage collapse at Athens on 16 July 1963 when the airport
fire service doused the mildly damaged aircraft in foam. The flight eventually was to take five
months to complete! Geoff's own shot below shows it at Adelaide Airport in December 1963
when the aircraft was on the last leg of its delivery flight. The registration VH-SMF had been
reserved for it, but because of the delivery delay Snowy Mountains took delivery of c/n 355
instead. Meanwhile, the contracts Air Charter had secured for the P166 were lost (due to the
delivery delay) resulting in the company going into receivership and the aircraft ownership was
assumed by the ferry captain, Jack Ellis. However, the machine was apparently badly corroded
and was withdrawn from service in 1966. Ellis eventually sued McAlpine over it in a long drawn
out legal battle. In 1968, VH-ACV along with most of the other Piaggios in Australia (airworthy
or not) were sold to Forrester Stephen Pty Ltd of Essendon. An optimistic October 1979
advertisement placed in "Flight International" by Forrester Stephen offered for sale a fleet of nine
P166s which were then stored at Bankstown. Most remained unsold and went derelict.