VH-ACU Beech F17D Staggerwing (c/n 248)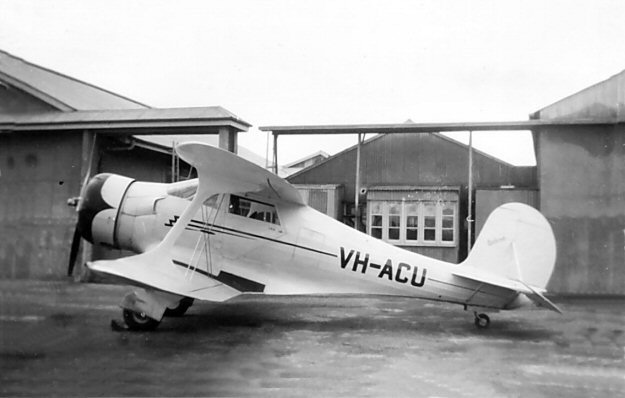 VH-ACU was formerly NC19478 and imported into Australia in March, 1939. It was used during
WW II as a communications machine bearing the serial A39-1. This was one of the aircraft at the
Wangaratta Air World before the demise of that museum. It is now reputed to be in South Australia
awaiting a rebuild. My photograph above was taken at Archerfield, Brisbane in 1952. The proven-
ance of the first of the images below is not known, but was probably taken in 1939 after being first
registered in Australia. The # 3 shot is courtesy of the Royal Flying Doctor Service (Queensland
Section) in whose service the aircraft operated, and shows it bearing the name 'The Russell F. Roberts'.
Finally, at the foot of the page is a photo from the Geoff Goodall collection showing -ACU at Albury
in May 1967 sporting a striking paint scheme of all yellow with red trim.