VH-ACI (1) Piper J3C-50 Cub Sport (c/n 2584)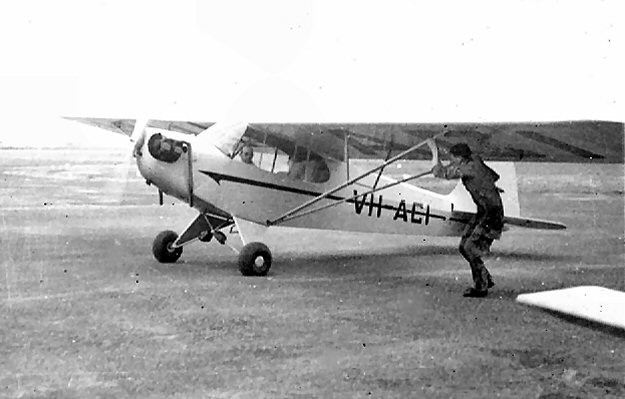 Rare shot of a Cub Sport taken in 1939 from the Frank Walters collection (via Geoff Goodall).
There appears to be somewhat of a mystery attached to this diminutive craft. An aircraft, which
was described in the newspaper as a yellow Taylor Cub crashed into a mountain in Megalong
Valley in the Blue Mountains on Saturday 28 January 1939 whilst on its way to an air pageant
at Orange, NSW. (The following Monday must have been a holiday). Killed in it were Roderick
Julius, son of Sir George and Lady Julius of Darling Point and C.E. Stumbles, publicity manager
of King's Theatres Pty ltd. According to the Herald the machine hit a cliff some 900' above the
valley floor and was not discovered for two days. By the description in the paper the aircraft would
appear to have crashed in very difficult terrain, and when spotted was deemed to be "similar to the
Taylor Cub in which Mr. Julius had previously flown around Australia". Below is a digitized version
of the photo which appeared in the SMH. Now the question is "was it

this

Cub (which was actually
a Piper) or was this just a file photo illustrating the

type

of aircraft in which the two men were killed?.
My records indicate that VH-ACI was not withdrawn from use until the end of 1947. If the terrain
was as inaccessible as the newspaper article states, it would appear unlikely that the crash aircraft
was dragged out of the bush and repaired. However, in the event I have not identified a Cub, Taylor


or

Piper, which was written off in the Blue Mountains on that date. Incidentally, another aircraft
crashed at that very same air pageant at Orange on that Monday, and that was the Tiger Moth
VH-UYQ . It was giving a "bombing demonstration" (remember, war was in the offing) when the
"bomb" exploded in the cockpit before being released, severing the pilot's hand. The pilot, Ernest
J. Buck, CFI of the Newcastle Aero Club, managed to guide the aircraft away from the crowd when
it subsequently crashed in the middle of the field, although sadly Buck died of his injuries. Again the
machine was descried as being "completely destroyed" but was, in fact, rebuilt and by October of
1939 had a new CofA and went on to be impressed into the RAAF as A17-676.