VH-ACB Cessna 310C (c/n 35780)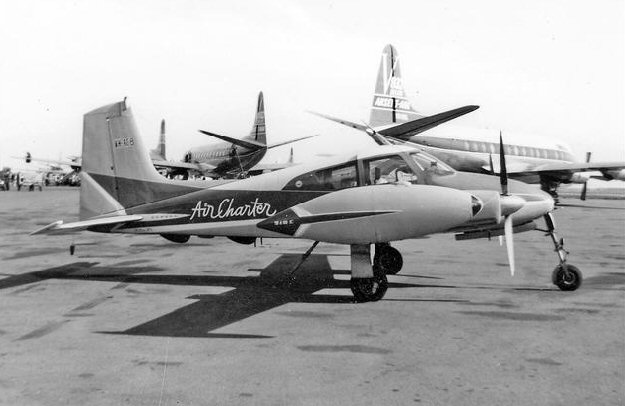 This aircraft had a long string of 'priors' before becoming VH-ACB. It had originally been imported
from Malaya by Sydney businessman Fred W. Sutton, and arrived at Bankstown on delivery on 30
September 1960. It was a former Southeast Asia Cessna demonstrator with previous registrations
9M-ALX, VR-SEE, VR-RBX and N6680B. It was registered VH-FWS on 17 October 1960 as
an executive aircraft for Aerial Agriculture Pty Ltd, Bankstown in which Sutton had a controlling financial
interest, before being acquired by Air Charter Pty Ltd of Perth in June 1962 and re-registered VH-ACB.
Geoff Goodall's shot above was taken at Adelaide Airport in June 1962, whilst the aircraft was visiting
from Perth. The rego is so roughly lettered that I have reproduced a close up of it at the bottom of the
page. The photograph immediately below by Mike Vincent (via Geoff) shows the aircraft later in life
at Archerfield in September 1976 in the markings of Niugini Mapping, this time with the call sign letters
in a different size to the nationality prefix! This 310 had previously spent a number of years with STOL
Commuters at Port Moresby and had been re-registered into the independent New Guinea series as
P2-ACB for a short period. Presumably the 'P2' had been overpainted with a smaller 'VH' for some
reason. (Shortage of paint in Brisbane?) Greg Banfield saw it at Bankstown in February 1972
(foot of the page) probably just before it left for PNG.