VH-ABP Porterfield 35/70 (c/n 335)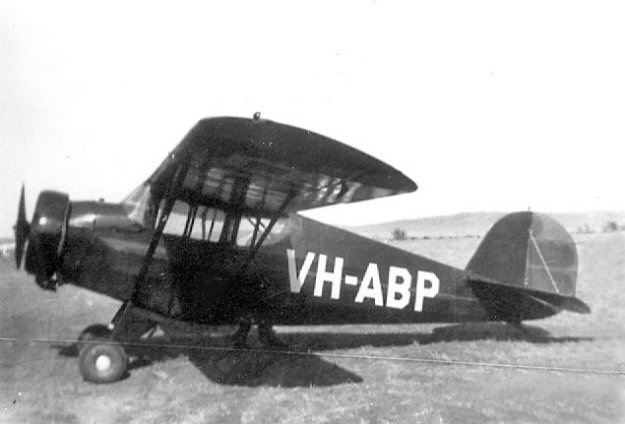 This Porterfield, seen above in this rare shot from the Frank Walters collection (via Geoff Goodall)
had a very short life. It was registered on 26 April 1938 to Felix B. Mueller at Essendon . Felix
was one of Reg Ansett's pilots who also ran a flying school at Hamilton, Vic.. The photo below
comes from Kevin OReilly and was given to him by Margaret Young, daughter of Harold Shelton
who was also flying for Ansett at the time. More a family portrait than one of the aircraft, per se,
it depicts, from left, Felix Mueller, Jean Burns (a parachutist) and Vi and Harold Shelton. VH-ABP
was probably assembled at the dealer's at Mascot in March 1938, and possibly where Frank's photo
was taken. Some five days after delivery (on 28 March 1938) Felix overturned it on landing at
Parafield having flown in from Broken Hill. It had another accident at Hamilton on 22 July 1938
when it crashed on takeoff on a training flight. The two on board were injured. It was decided to
have the aircraft rebuilt by Victorian & Interstate Airways at Essendon and initially it was plan-
ned to use the fuselage of VH-UVH which had been salvaged from the disastrous hangar fire
which occurred at Essendon on 27 February 1939. Later it appears that Ansett Airways
purchased the wreckage of -ABP from Mueller to be used in their rebuild of -UVH. Based
on that decision, VH-ABP's registration was cancelled on 5 February 1942. The image of the
wreckage below is from the Charles Ohlson collection, via Civil Aviation Historical Society
archives.