VH-AAY Grumman G.21 Goose (c/n 1008)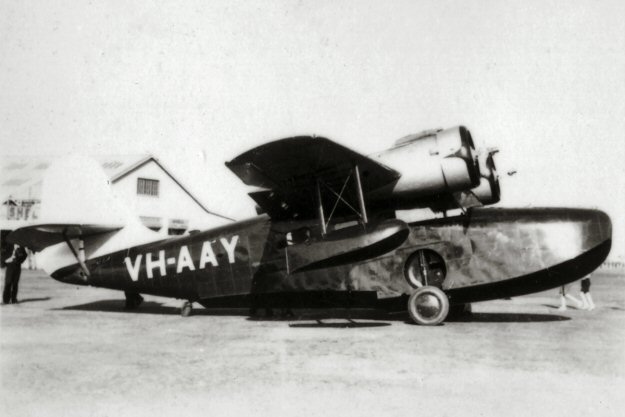 In 1937 the Asiatic Petroleum Corporation of New York ordered two Grumman Goose aircraft
(shouldn't that be Geese?) for oil exploration work being done by their subsidiary Papuan Oil
Development Co. The first is seen above in this grainy photo (via the CAHS) which also
appeared in an article in the Sydney Morning Herald of 5 January 1938, (bottom of page).
The image below, from the H. C. Kavelaars collection, shows it being crated for shipment to
Port Moresby. As can be seen the wing center section on which Pratt and Whitney Wasp
Juniors were mounted was an integral part of the hull. In addition to work in support of oilfield
development this aircraft also undertook mail flights from Port Moresby to Darwin in 1938
supplementing the weekly service provided by W.R. Carpenter's D.H.86Bs.
Later in its time in New Guinea the Goose was transferred to the Mining Company of Dutch New
Guinea (M.M.N.N.G) and was eventually re-registered to the Batavia Petroleum Company as
PK-BPM. In the meantime, with the cessation of oil exploration in Papua, the second machine
(to have been VH-AAZ) was diverted instead directly to Batavia Petroleum as PK-AKR.